French manufacturer since 1865
French Manufacturer since 1865
The adventure of Fantex industrie – l'Extra-Souple began in 1865 in Normandy. Caoutchouc Manufacturé Establishments is the starting point of a long and beautiful story as a manufacturer of straps, ribbons, laces, plaits, cords, elastic and stiff. The ingenuity, the dynamism, the wild will of the staff allowed Fantex Industrie l'Extra-Souple to go on and adapt itself to the changes of our world. Our company went through wars and economic crises without ever stopping innovations.
In 2009 domestic private shareholders bought Fantex Industrie. Numerous investments were realized to modernize and strengthen the industrial production tools. The deep spirit of community and mutual responsibility as well as the know-how allow a continuous financial or economic growth.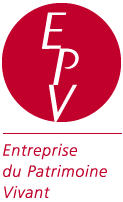 FANTEX is labeled « Heritage Company » French companies with the EPV label undertake to maintain their production activity in France while promoting the French identity.
The Living Heritage Company label (EPV) is a recognition of the state set up to reward French companies to craft skills and manufacturing excellence.
www.patrimoine-vivant.com